Hometown Foundation attack 'blinkered' Owenstown dismissal
March 24 2015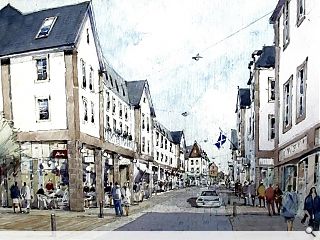 The Hometown Foundation has expressed its 'disappointment' and 'regret' following the decision of Scottish Government reporter to reject their appeal against the
refusal of planning in principle for a £500m new town in South Lanarkshire
.
Owenstown would have seen 3,200 homes built on 400 acres of land in the Douglas Valley near Rigside; including offices, shops, restaurants, a hotel, schools, care home and industrial space.
Uniquely the project would have been run on a 'co-operative basis' by residents with revenue being reinvested in the town.
Bill Nicol, director of the Hometown Foundation, remarked: "This decision will mean the loss to local people of new homes, vital jobs, industrial units and an innovation centre. There's nothing else on the horizon of any consequence from South Lanarkshire Council and it's a great pity for young people whose best hope may now be to emigrate.
"This represents a massive loss to the area and Scotland as a whole. We have spoken to authorities in England, Wales and Ireland about the concept and they have no difficulty understanding its potential.
"We will now be investigating the opportunities that exist in other less blinkered parts of the country. What we can't understand is why our local and national elected representatives can't grasp something which is ambitious, visionary and morally right – perhaps it's because they didn't think of it first."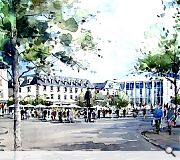 South Lanarkshire Council is keen to ficus resources on existing urban centres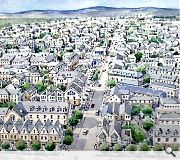 The vision, ostensibly modelled on Robert Owen's New Lanark settlement, could now relocate elsewhere in the UK
Back to March 2015