Ab Rogers to design latest Maggie's Centre
March 4 2015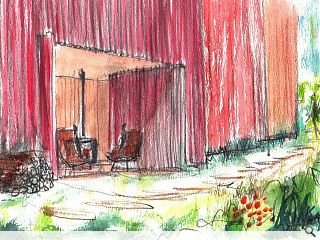 Cancer care charity Maggie's has appointed architects Ab Rogers and landscape architects Piet Oudolf to design its latest support centre within the grounds of the Royal Marsden hospital, Sutton.
A world-leader in cancer treatment the hospital will benefit from a new support facility at which advice and support for the emotional and physical wellbeing of patients will be delivered.
Arranged around a series of internal courtyards providing communal and private spaces, similar to the recently completed
Maggie's Lanarkshire
.
Laura Lee, chief executive of Maggie's said: "We are thrilled to be working in partnership with The Royal Marsden, who have such an amazing track record in cancer treatment and outstanding patient care. The new Centre will allow us to extend our programme of support across London and Ab Rogers' design will deliver the calm and uplifting space so vital to the support Maggie's offers."
Cally Palmer, chief executive of The Royal Marsden, added: "Treating people with cancer is not just about treating their disease; At The Royal Marsden, we treat the whole person – their physical, emotional and psychological needs. Working with Maggie's, to provide a Maggie's Centre at The Royal Marsden in Sutton, will enable us to extend the level of non-clinical support in a beautiful environment which I hope will benefit as many of our patients, together with their friends and family, as possible."
A planning application is expected by summer 2015 for completion by early 2017
The building will maximise natural light and garden views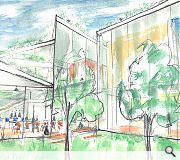 There are currently 18 Maggie's Centres in operation
Back to March 2015