Keppie call for greater collaboration between architects and schools
March 3 2015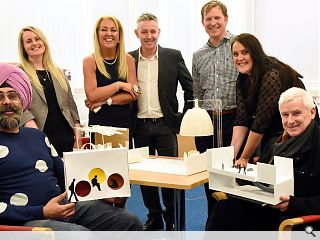 Keppie Design has led calls for architects to assume greater responsibility for nurturing High School talent, as they awarded Cumnock Academy first prize in its Interaction Schools Design Challenge - organised in collaboration with East Ayrshire Council and Ayrshire College.
Designed to inspire future architects in local secondary schools the initiative saw pupils tasked with designing a flexible and open learning environment for the under construction
Ayrshire College campus, Kilmarnock
.
Professor Christopher Platt, judge and head of Mackintosh School of Architecture, said: "Architecture is not taught in schools as a subject so it is increasingly important for firms like Keppie to engage with education to improve how the profession is perceived by those who may go on to become the architects of the future."
Keppie design director David Ross added: "In general terms, architects engage far less with the communities in which we operate than we'd like to admit, given that listening and communicating with those who experience our work is an essential part of the job. To an extent, this could be as a consequence of a gulf between education and practice which has already been recognised by many educators. By addressing this issue there is an opportunity for architectural practices to become directly involved in changing how the profession is understood.
"It is my view that more practices need to collaborate with, and support, the wider spectrum of education in order to protect, nurture and ultimately strengthen the profession for the future."
Cumnock's winning design will now form the basis of an open curriculum support area within the delivered college, whose design team includes structural engineer Ramboll, contractor McLaughlin & Harvey and interior designer Space Solutions.
Back to March 2015