Land Securities release updated Buchanan Quarter visualisations
February 27 2015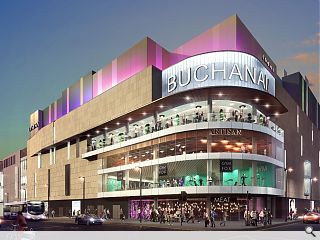 Land Securities have released fresh detail on their vision for
Glasgow's Buchanan Quarter
by illustrating the effect that an expanded footprint is likely to have on North Hannover Street and Killermont Street.
Visualisations depict a curving block hosting a new leisure destination at the junction, overlooking the city's main bus station, intended to integrate the road into the city centre by creating an appropriately scaled built environment.
In their site appraisal BDP noted: "North Hanover Street currently suffers from both a lack of quality built enclosure to both sides of the road and a width and openness not normally found within city centre pedestrian streets.
"The proposals seek to reintegrate North Hanover Street into the city centre district by creating an appropriately scaled built environment that acts as a framework for future development to the south and east.
"Whilst the building overall is higher than the John Lewis elevation immediately to the west, the stone cladding aims to relate in scale to the eaves line of the adjacent building. The junction between the new building and its neighbour is articulated by the full height glazed screen. In addition, this signals the entrance off Killermont Street, providing access to the mall and to the cinema and restaurants above.
"The cinema sits as a distinct element above the masonry façade. A second glazed light box signals the cinema and leisure from the western approach."
A separate component of the masterplan will entail enclosure of the top end of Buchanan Street with a glass atrium.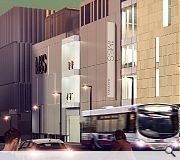 Dead frontages will still be present on North hannover Street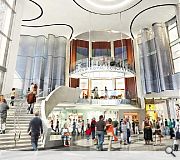 The internalised mall environment is set to encroach upon Buchanan Street
Back to February 2015