£1bn Aberdeen satellite town wins approval
February 27 2015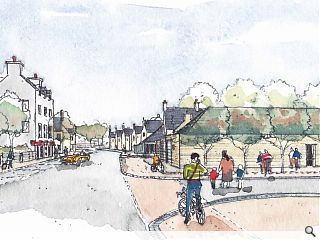 Aberdeen City Council has approved plans for a £1bn satellite town which will ultimately provide up to 7,000 new homes on the outskirts of the city.
Grandhome, Bridge of Don, is a
40 year Andres Duany masterplan
involving the phased creation of a series of traditional style neighbourhoods each with walkable access to shops, work places, green spaces and community services.
Phase one will consist of 600 homes around a central square, designed to evoke a 'strong identity that draws from the distinctive character of the North- East, including Old Aberdeen and surrounding local towns'.
A Grandhome Trust spokesperson said: "Grandhome's masterplan is based on the principle of the transect. The transect measures the character of an environment from rural to urban with its purpose being to provide a range of environments or zones from the urban high street hub through to the lower density residential neighbourhoods on the settlement edge.
"In contrast to onesize- fits-all developments where all the streets feel the same, the purpose of the transect is to incorporate the different range of paths, lanes, minor streets, main streets and high street that make up our traditional communities.
"Densities, building heights, house types, building setbacks and other issues are then correlated to each zone providing a rich and varied development as opposed to suburban monoculture."
A detailed planning application for phase 1 housing will be filed this spring with infrastructure work expected to get underway later in the year for completion by 2019.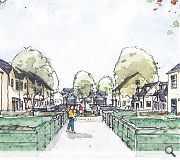 Grandhome joins similar planned new towns in the Aberdeen area; notably Chapelton of Elsick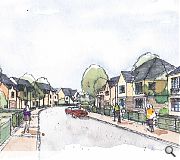 Homes will be modelled on the local vernacular
Back to February 2015