Millenium Hotel expansion faces headwinds as Network Rail object
February 25 2015
Hamiltons Architects have
fleshed out their proposals
to remodel and extend the
Millenium Hotel on George Square
, Glasgow, to take advantage of planned development work to the north as part of the Buchanan Galleries overhaul.
This will see the business lose around half of its rooms to make way for an expansion of the Queen Street Station concourse, necessitating the need to find a means of replacing this lost accommodation.
To that end Millenium and Copthorne Hotels have filed revised plans for a limestone and polished concrete clad extension to the rear including a covered courtyard and roof terrace.
In a supporting statement outlining their approach Hamiltons said: "The redevelopment of the station will have a major impact on George Square – but, it will be the bulk of the proposed multi-storey car park that will be most detrimental.
"It is proposed to mask the bulk of the car park with elements that mediate between the two. The masking elements will be treated architecturally to mediate between the historic hotel building and the contemporary car park building."
The scheme faces headwinds however in the form of a formal objection from Network Rail on the grounds that a through route from the hotel to the station via the approved Buchanan Partnership retail concourse has not been flow modelled and thus may impact safe operation of the station.
Further objections include the implications for ventilation and fire safety at the MSCP which cannot be resolved without commercial agreements with both Network Rail and the Buchanan Partnership.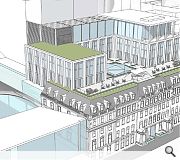 An asymetrical extension is now proposed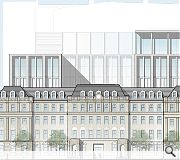 The Georgian hotel building will be fully restored during the expansion
Back to February 2015