£390m Buchanan Galleries extension wins approval
February 24 2015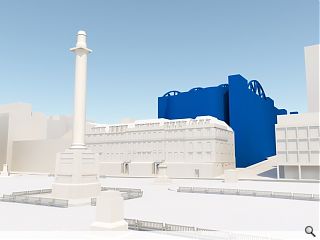 A £390m proposal to extend
Glasgow's Buchanan Galleries
shopping mall has been approved by Glasgow City Council, clearing the way for work to proceed on than ambitious rebuild of the existing centre this summer.
Architects BDP have drawn up plans to create a new entrance atrium at Killermont Street whilst decking over the entrance to Queen Street Station and demolishing an existing car park to make way for a new M&S store and cinema.
More controversially replacement parking provision will be provided in a 1,500 space MSCP overlooking George Square and the
Buchanan Street steps
will be demolished to make way for a new 'entrance atrium' and through route to the bus station.
GCC leader Gordon Matheson said: "This planning consent will unlock over £300million of private sector investment for Glasgow. Alongside our TIF scheme, the expansion of Buchanan Galleries will improve the city centre's public realm and infrastructure, and generate 1500 jobs. We are justifiably proud in Glasgow city centre being the UK's second biggest retail destination, but to ensure we remain in such a position new ways of attracting visitors and investors must be found. The expansion of the Galleries will help us to do so."
Separate plans have been submitted for an
extension to the Millenium Hotel
, intended to blot out the bulk of the mass of the planned car park.
Attempts will be made to engage with streets that the present centre turns its back on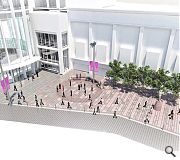 The Concert Hall steps will make way for a new public space
Back to February 2015