Saltire Society seek examples of housing excellence
February 23 2015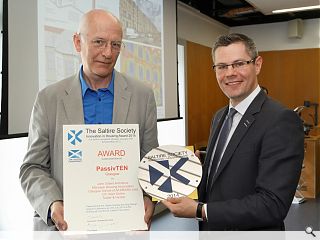 Organisers of the 2015 Saltire Housing Design Awards are seeking examples of housing excellence to go head to head in a battle to find the best new build projects the country has to offer.
Owners, clients, architects, house-builders and housing developers are being asked to put forward everything from single dwellings in the remotest Highland glens, to large scale city centre developments.
Winners in past years include the likes of John Gilbert Architects, who won plaudits for their PassivTen study aimed at reducing fuel poverty in Glasgow tenement housing.
Award convener Jude Barber said: "2015 marks the award's 78th anniversary, 1937 seeing the very first awards initiated by the Society. Far from just glancing backwards at this proud history however, the awards have in recent years been re-imagined in a Scotland where the need to promote good design and housing for all, is just as immediate as it was in the 1930's.
"We are once again looking forward, and seeking new entries from across Scotland.
We very much hope that your project will be one of them."
Short listed entries must be received no later than 25 March ahead of publication of the shortlist in May. The winners themselves will be notified at an awards dinner on 22 June.
Back to February 2015