'Art Deco style' Dundee flats secure approval
February 20 2015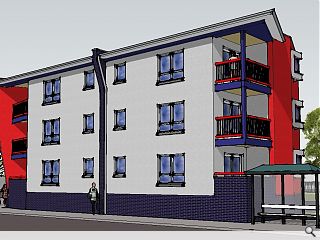 A block of 12 flats planned for the site of a demolished Dundee cinema have been
approved by the city council
, enabling Ramsay's Properties to proceed with the Hiddleston & Feist designed scheme.
Set back from the street by 1.3m with entrances and car parking to the rear the project is intended to clearly delineate public and private spaces.
In a supporting statement the architects said: "The building has been designed to respect the Art-Deco style of the disused and dilapidated cinema which was a prominent feature of Lochee's townscape."
Finished in a mix of white terracotta stucco and glazed brickwork the property replaces the B-listed Rialto Cinema on Lochee Road, a conservation area, recently demolished following a 2007 fire.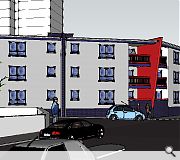 The build turns the corner from Lochee Road to Gray's Lane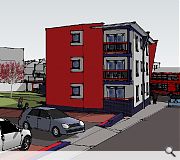 Vivid red features will contrast with white brickwork
Back to February 2015