Gordon Brown opens Maggie's Centre Kirkcaldy
|
Send to friend
November 6 2006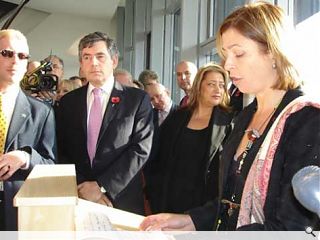 Gordon Brown opened the new Maggie's Centre at Kirkcaldy on Friday amid much media excitement. Brown, who was attending the opening with his wife who is Patron of the Maggie's charity, said the opening of Maggie's Kirkcaldy was a great day for people of Fife. He talked about the high level of community participation in the fundraising for the building.
Zaha Hadid made a brief speech in which she said she had been humbled by the experience of working on the project. This modest project is Zaha Hadid's first UK building. Charles Jencks, the architecture critic and husband of the late Maggie Keswick Jenck's has attracted some of the world's most famous architects to design new Maggie's centres on a pro-bono basis.
Zaha Hadid who met Jencks and Maggie while studying at the Architectural Association in London. "At Maggie's we are in a sense a harbinger of the future," said Jencks. Hospitals, he argues, were once part of social and cultural life, but with the onset of modern industrial society they became more like factories. As we live longer and good health becomes an increasingly central to our culture, the hospital as an institution, and a building type, will mutate becoming more sensitive to psychological, spiritual and therapeutic needs.
These are big claims and they take their place in a broader debate about the social impact of architecture and "architectural determinism", but the new Maggie's Centre at Kirkcaldy, is a modest project. Maggie's Kirkcaldy bears a resemblance to the Maggie's Dundee by Frank Gehry. Like the Gehry project, Kirkcaldy turns its back on its neighbour, the monolithic slab of the hospital tower. At Dundee a timber platform steps over the hillside allowing visitors an outdoor space with spectacular views of the Tay. At Kirkcaldy the building hangs poignantly over a previously neglected, wooded hollow at the heart of the highly developed campus. Where Kirkcaldy differs from the Gehry building is in the external expression.
While the Gehry building is like a bungalow with a big shiny roof, Hadid's centre is an object, a piece of sculpture, a simple pavilion made of a single folded surface, not unlike a piece of origami. The simple black shell opens up to the south, to the sunlight and the trees. Hadid describes the building as modernist, she locates it as part of a tradition that began with the simple modernist Californian house, designed by architects like Marcel Breuer.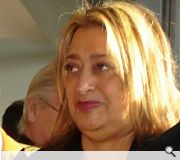 Back to November 2006