Consultation launched for Royal High School hotel conversion
February 5 2015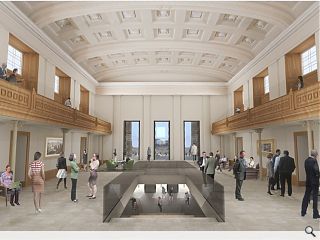 Developers behind plans to convert Edinburgh's Royal High School into hotel accommodation are to throw open the doors to the landmark building, disused since 1969, for a public consultation detailing their development vision.
Duddingston House Properties and the Urbanist Group plan to invest £55m in restoring Thomas Hamilton's Greek revival set piece, whilst adding new build extensions to either side designed by Gareth Hoskins Architects.
David Orr of the Urbanist Group commented, "As we develop our proposals we want to be sure the public have their chance to appreciate how Hamilton's building and vision has been compromised by later buildings on site.
"The new buildings designed by Gareth Hoskins Architects, will open up a more generous view from the west of the only accessible route to Calton Hill as well as the views to the north façade of the building and Hamilton's original retaining wall and tower which have been hidden or partially obscured by ancillary buildings. As part of our vision for the site we are keen to restore, reveal and frame these important features of Hamilton's original design."
The consultation will take place from 12:00 to 19:00 tomorrow and 11:00 to 17:00 on Saturday with an exhibition of further developed proposals going on show between 5-6 March from 12:00 till 19:00.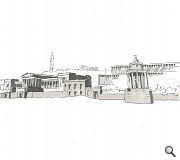 Initial sketches of the planned work will be on display
Back to February 2015