Aberdeen heads 2015 Carbuncles with Plook award
February 3 2015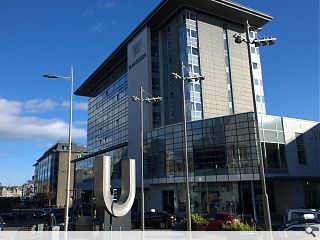 Aberdeen has beaten off stiff competition from the likes of Cumbernauld, East Kilbride and Leven to win the award nobody wants, the Plook-on-the-Plinth trophy for Scotland's most dismal place, handed out as part of Urban Realm's annual Carbuncle Awards.
Aberdeen was crowned Scotland's most dismal town after emerging as an early front runner when readers of architecture magazine Urban Realm nominated following a litany of embarrassing missteps from the Union Terrace Gardens fiasco to the failed bid for 2017 City of Culture to today's fracas over Marischal Square.
These losses have been compounded by the continued haemorrhaging of shops on Union Street which feed a wider malaise as shoppers retreat to covered malls, sucking the life out of surrounding streets.
Such stumbles are hard to square with what remains a rich granite heritage that lends Aberdeen a solid if dour demeanour. Sadly, there has been little of note built in the modern era to do justice to this legacy with durability and sustainability sacrificed in favour of flimsy, throwaway buildings that foster an 'anything goes' attitude.
Urban Realm editor John Glenday commented: "Aberdeen is a great city but despite its enviable financial clout and rich heritage legacy it has become the poor relation of the Scottish cities. It has been left behind by the likes of Dundee, which has made huge strides to transform its waterfront.
"The time to turn things around is now, in a few years' time it may well be too late."
A 'Pock Mark' award for worst planning decision was handed to Edinburgh City Council for demolition of the
B-listed Scottish Provident Building
on St Andrews Square. Glenday remarked: "Demolition of the Scottish Provident building is a tragedy borne out of farce, that makes a mockery of the listing process. The 'will they won't they' guessing game as to whether the façade would ever be retained saw planners played by developers whose pursuit of financial imperatives has cost Edinburgh one of its landmark modern buildings."
Edinburgh Airport's recently completed eastern terminal expansion
meanwhile netted a 'Zit' accolade for Scotland's worst building. Glenday observed: "Design standards set by Edinburgh Airport's aircraft control tower haven't extended to the latest 'East' expansion of the terminal, a utilitarian block that is less a national gateway in the vein of Madrid's Barajas Airport and more Livingston business park. It is illustrative of a paucity of design ambition at what should be Scotland's gateway to the world."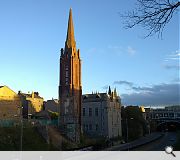 A deeper hole is being dug at Dandara's Triple Kirks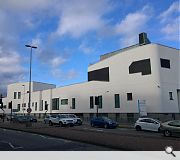 A £24m community health & care 'village'
Back to February 2015