Perth College unveil £6.5m sport campus plan
January 26 2015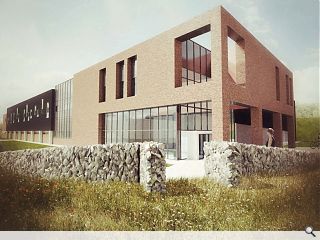 The University of the Highlands and Islands has revealed plans to build a
£6.5m academy of sport and wellbeing
at its Perth campus on Crieff Road, incorporating a hockey pitch, badminton and basketball courts.
Designed by Clague the new building is finished in red brick to tie in visually with the majority of the existing campus with varying treatments of glazing and matt black metal cladding designed to break down an 86m long elevation.
In their design statement Clague said: "Windows within the cladding have been positioned to avoid direct vision into a neighbouring school, at the same time the location varies in the vertical plane to reduce the visual length of the building.
"By proposing the main front entrance part of the building being constructed in a similar red brick we are working hard on trying to unify the campus and bring some common identity to the site."
The university hopes to commence construction in July for completion by September 2016.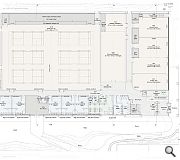 A variety of spourts halls and academic facilities will be offered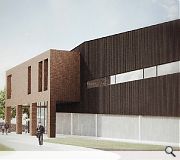 An alternating materials palette is used to break the monotony of an 86m facade
Back to January 2015