Graven unveil £1m Aberdeen enterprise hub
January 26 2015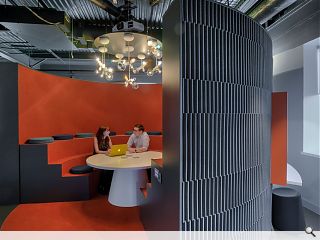 Graven have unveiled a £1m Aberdeen base for Enterprise North East Trust at The Hub Building in Aberdeen Energy Park, transforming the top floor into a centre for entrepreneurship.
Rebranded as 'Elevator' the scheme saw bland office provision transformed into flexible working space for 28 staff, arranged around a wedge-shaped central structure that provides room for meeting areas for and equipment.
Elsewhere ceiling tiles have been removed to expose building services and a corporate carpet ripped out to make way for a mixture of rubber and woven polyester. Spaces are defined by the use of folded aluminium cladding and anechoic foam with painted and upholstered seating and storage.
Graven managing director Ross Hunter, commented: "Elevator was a fantastic project to work on. Many of the people are developing dynamic ideas or supporting highly creative and innovative businesses, and we wanted to create an inspirational and cutting-edge space to support them and give them confidence to aim high.
"We introduced a stimulating palette of materials and colours to create energy and provided a range of different types of environment. We developed innovative shared areas and created controlled views to give the right balance of privacy and team cohesion."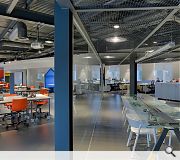 Facilities available include an amphitheatre, business library and video conferencing equipment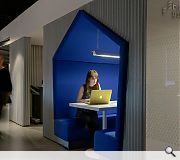 The centre will serve as a hub for community driven projects
Back to January 2015