Urban Realm kicks off 2015 with new edition
January 9 2015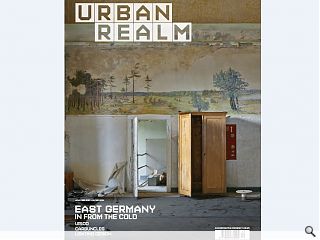 Urban Realm has hit the ground running in 2015 with publication of our first issue of the year,
available now to all subscribers
, a bumper edition which investigates the legacy of the Cold War on East Germany's built form whilst also delving into the worlds of art and lighting, not to mention a full rundown of the Scotland's top practices.
This is couched by a fresh look at the bountiful architectural legacy of our small towns, notably Dunoon, where bottom-up regeneration spurred by work to rescue its Burgh Hall points to optimism in the year ahead. We also detail how this offers a template for others to follow in turning their fortunes around.
Urban Realm editor John Glenday commented: "2014 was a year of high passion, fostering an environment which percolated through all corners of the country and society to hone creative muscles, sacrifice some sacred cows and smash the despondency of recession with new found self-confidence.
"Nowhere is this changed mindset more apparent than the UR100 where we've assembled Scotland's top practices to showcase their wares and show us (literally) what they're made of.
"We wish all our readers a happy New Year."
Back to January 2015