'Futuristic' George Square hotel plan lodged
December 18 2014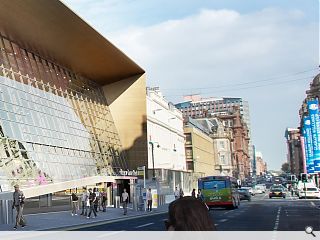 Millenium & Copthorne Hotels have lodged plans, as yet unpublicised, to build a 'futuristic' extension to their George Square hotel following the loss of a 1970s built extension to an expansion of Queen Street Station.
The build will replace 50 bedrooms lost as a result and is intended to 'mask' the gable end of a BDP designed 1,700 space car park planned for land to the immediate north of the hotel – meaning any addition would need to be at least 11 storeys in height.
A spokesman for the hotel operator said: "The proposed car park will loom over the hotel building, overshadowing George Square. We have now lodged a planning application with the City Council which seeks to address this problem.
"The application proposes total refurbishment of the property, replacing the bedrooms which are being demolished, and providing a futuristic design solution that will mask the gable end of the car park."
Buchanan Galleries development director Nick Davis defended the planned MSCP in the Evening Times, saying: "The final exterior design of the car park is currently being progressed in close consultation with stakeholders and will utilise high quality materials."
It is hoped to deliver the extension in tandem with the planned Buchanan Quarter for completion by 2019.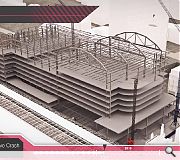 The hotel expansion would take place in tandem with the MSCP
Back to December 2014