Brighton's i360 tower takes shape
December 16 2014
A novel viewing tower set to dominate the south coast town of Brighton is currently taking place in Holland with the fabrication of 17 steel drums and 33 giant flanges.
Components for the tallest observation tower outside London are set to be shipped in by boat prior to assembly in 2015 using a jacking platform.
Eleanor Harris, CEO of Brighton i360, said "This technology is what will create the strength in our tower, so that it can withstand high winds and carry up to 200 people in our viewing pod.
"The 162 metre high tower is only 4 metres wide and every step of the way requires unique and ground breaking design and engineering."
Designed by marks Barfield the hi-tech structure, originally scheduled to open in 2010 before being stalled by the recession, will feature a do architecture designed lighting scheme.
Groundworks at the foot of Brighton's historic West Pier are already underway.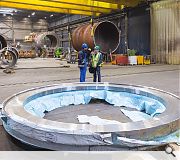 Each steel drum will be sprayed with molten zinc and then painted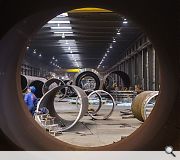 The completed tower will resemble a vertical cable car
Back to December 2014