Backlash against Glasgow Harbour flats proposal gathers pace
December 3 2014
Controversial plans to erect a
block of flats at Glasgow Harbour
, the final phase of the riverfront development, are facing a growing backlash as politicians, residents and local's rail against the design and tenure being proposed by developer Dandara.
Existing tenants are furious at what they see as a dumbing down of the original master plan, which called for 23 storey and 17 storey 'bookend' towers clad in granite, copper and ceramic terracotta offering a range of properties for sale.
This has been superceded with a single 16 storey block, stepping down to 12 storeys, offering 348 for private let clad in acid etched concrete panels – dubbed 'Benidorm without the beach' by one resident.
Speaking to STV News
Urban Realm editor John Glenday said: "The recession was an opportunity for developers to think again, to take stock of the failed economic models of the past. What we're seeing with the Dandara proposal is that no lessons have been learned, that in fact we're repeating the mistakes of the past and pursuing short-term profits at the expense of longer term sustainability."
A deadline for objections to the proposal passes today.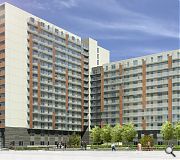 Revised plans for the gap site have not been well received
Back to December 2014