Heriot Watt University plans engineering annex
November 28 2014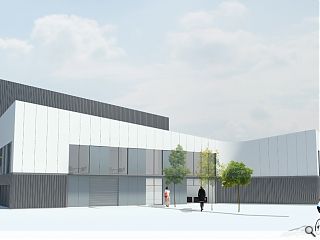 Heriot Watt University and the British Geological Survey have unveiled plans to create an
engineering annex to an approved research building
, for the storage of industrial equipment.
Located to the north of the
planned Lyell Centre
, on Heriot's Riccarton campus, the functional steel shed will provide space for mechanical workshops and storage alongside a small office area.
In a supporting statement Page\park Architects observed: "The support building is seen as a twin of the Lyell Centre. It is similarly organised within an 'L' shaped plan with the two wings of accommodation brought together at the elbow of the 'L' plan."
These wings house office and engineering facilities around a shared public entrance, with the volume and footprint of both segments varying in accordance with use.
The architects concluded: We have adopted an approach that seeks, on the external face of the 'L' plan, to differentiate the activities taking place by introducing a different cladding colour to the upper level offices dipping down to the more public entrance functions on the ground floor and to the internal face of the inner service yard."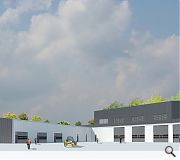 The engineering wing will be finished in a simple steel cladding system
Back to November 2014