Buchanan Galleries rotunda out of step with public opinion
November 19 2014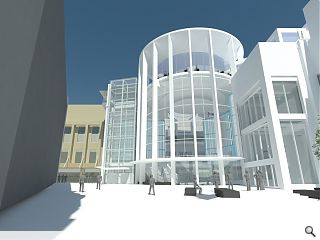 Plans to erect a
glass rotunda at the head of Buchanan Street
have fermented a backlash amongst local campaigners who have hit out at the planned replacement of a prominent cascade of steps with a 'generic and underwhelming' entrance rotunda.
Developer Land Securities and architect BDP plan an 'active top' to the glazed drum with a rooftop restaurant and viewing deck. On the street below, near a statue of devolution campaigner Donald Dewar, will be replaced with a circular array of 'art stones' which will serve as an 'outdoor theatre' and 'gathering place' alongside new areas of public seating.
New trees would be planted and areas of pink and grey granite paving laid alongside retained slabs of Caithness stone.
Non-plussed by this vision however campaigners are closing in on reaching their target of 15,000 signatories to a
petition calling on Glasgow City Council and the Scottish Parliament to block the plans
.
Campaign leader Ben Bookless told Urban Realm: "The battle to save these steps, which are used by many people both as a meeting place to enjoy great views over Buchanan Street and an iconic place to protest, will prevent an ugly glass atrium being built that will make Buchanan Galleries look like any UK shopping centre, not a uniquely Glaswegian one."
In a design statement BDP said that the plans are 'high quality', saying: "The curved glass wall completes the existing circular form of the concert hall and galleries elevations. The high quality glass enclosure will provide clear views in to the new internal elevation leading directly to the concert hall."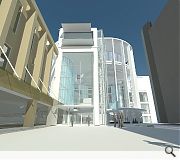 The new atrium space will provide a joint entrance space to the concert hall and shopping mall
Back to November 2014