Croft transformation rescues remote ruin
November 13 2014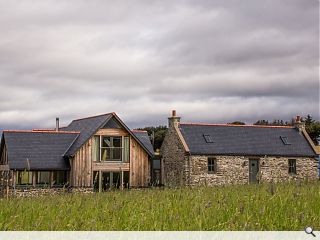 An abandoned Aberdeenshire croft has been given a new lease of life courtesy of its transformation into a modern family home by Annie Kenyon Architects.
The modest stone built dwelling has been greatly extended by larch clad living spaces and adjoining garage, which wrap around the property to form a sheltered courtyard.
In a statement the practice said: "The existing croft has been renovated and extended to create a sustainable, contemporary family home. The design retains the existing building as its focal point, with contemporary additions placed behind, to the side and stepped down from it; the overall arrangement is that of a farm courtyard.
"The dwelling is orientated to take best advantage of the sun's path and to provide fine views. The new structure, connected to the existing cottage by a glazed link, uses natural slate, Scottish larch cladding and dry stone base courses."
Gallabog Croft is located around half a mile from Largue, Aberdeenshire.
Back to November 2014