Credential resubmit Venlaw Tower plan
November 12 2014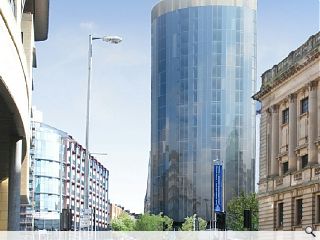 Credential Holdings have
resubmitted plans to build a residential tower
on the corner of Elmbank Gardens at 349 Bath Street, Glasgow, after staging a pre-application consultation event – which saw just one feedback sheet completed over the course of five days.
First submitted back in 2010
the build, backed by just £9m, is intended to 'breathe life' into the Seifert designed Elmbank Gardens complex, a section of which has no pavement, by improving public realm on Newton Street with an extended and widened pedestrian route.
With consent for an approved 18 storey office tower, deemed uneconomical in the present market, due to lapse in 2015 the developer has instructed ZM Architecture to revisit a 2010 tower proposal for 83 flats with no on-site parking, in addition to 205sq/m of ground floor commercial space.
The built form of the resulting solution steps down to meet the adjoining Venlaw building based on a 1:2:3 height progression from the existing building. Unlike its neighbour the new build will be predominantly clad in glass with white cement fibre modular cladding panels reserved for the eastern elevation.
A vertically banded feature glass and steel mesh tiles serving as a crown, which will be back-illuminated at night and the podium will be faced in concrete and Portland stone or a stone composite panel.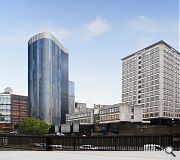 Credential own the adjacent Tay House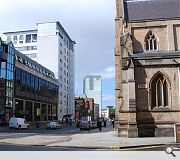 Glass gives way to a wall of fibre cement concrete on the eastern elevation
Back to November 2014