Helensburgh home metamorphosis recognised
October 29 2014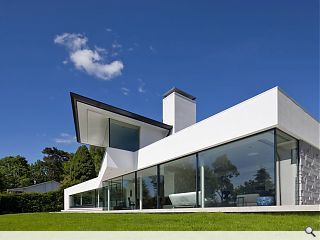 McInnes Gardner Architects have been recognised for their refurbishment of an unprepossessing 1970s home at Shandon Rhue, Helensburgh, into a minimalist hillside landmark.
The metamorphosis saw the tired timber frame property into a huge 'H' plan property overlooking the Gareloch with custom features including handmade doors, some of which can be slid open, and a suspended chimney breast hanging over a polished concrete hearth.
A full length window dominates the front façade offering views to the loch below and mountains beyond with textured 'cast concrete effect' panels arranged in an 'H' formation to reflect the plan of the house.
In their design statement the architects noted: "Our task was to modernise and deliver a minimalist yet striking design, enhancing the virtues of the original house concept and opening spaces as required to meet modern expectations and energy standards and, to create a dynamic architecture, we added a new 'gallery pod' extending from the entrance in the upper wing, passing over the lower wing as a dramatic cantilevered panoramic viewing platform."
McInnes Gardner picked up the 'Best Individual new Build' gong at the Herald Property Awards, the third year in a row the practice has won.
Back to October 2014