Clyde Gateway seeks investors for Shawfield business district
October 14 2014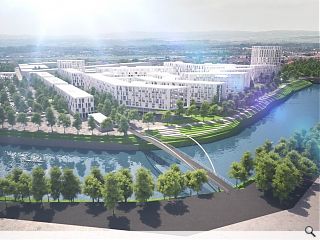 Regeneration agency Clyde Gateway is seeking to capitalise on the success of the 2014 Commonwealth Games by seeking investors to back its future development pipeline.
Chief amongst these is the largest commercial and industrial planning consent in Scotland, a
65 hectare business park at Shawfield
, composed primarily of Class 4 business space in buildings ranging from 20,000sq/ft to 300,000sq/ft although it will also accommodate complementary shops, cafés, a gym, business centre and hotel.
Master planned by 7N Architects 1.2m sq/ft scheme will adopt an urban character with landscape connecting buildings to the riverfront. Led by Mace the development team includes Arup, Ironside Farrar and Sheppard Robson.
Clyde Gateway chief executive Ian Manson said: "It's clear that the location, the value for money and of course the quality of build available is second to none. That's why these new developments are not to be missed opportunities for potential investors. This is their chance to get involved with us and play a significant part of something which is already making huge economic and lifestyle differences to the lives of people in and around Glasgow.
"The Shawfield development, in particular, is a one of a kind. It's the largest planning consent in Scotland and the 11th largest in the UK – what an opportunity that presents."
The first phase of work is already underway, delivering infrastructure and landscape improvements including a new
pedestrian bridge to Dalmarnock
, where up to 800 new homes are planned following the success of the Athletes' Village.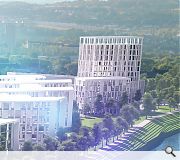 A 13-storey hotel would dominate the business park
A green landscape will be woven around the riverside setting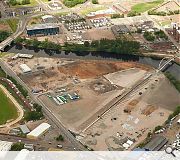 Police Scotland are in process of moving into their £24m Riverside East HQ on the opposite bank of the river
Back to October 2014