Stallan-Brand submit phase II Speirs Locks plan
October 3 2014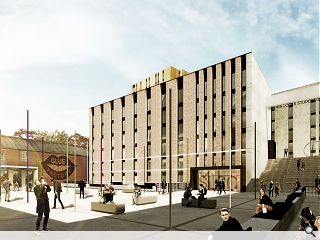 Stallan-Brand architects have submitted phase II proposals for their
Speirs Locks master plan
, outlining the delivery of two student blocks containing a further 304 beds.
Clad in brick and corten steel in reference to the areas industrial aesthetic the blocks take the form of plinth and tower elements with gables given over to an urban canvas for the display of large super graphics.
Looking out over an arrival plaza, which will double as an outdoor amenity for the adjacent Glue Factory and Whisky Bond arts venue, the scheme aims to deliver the 'best urban space in Glasgow'.
In their design statement Stallan-Brand said: "The East Elevation of Block A adds a scale and sense of enclosure which was lacking in the initial Phase I application information, and creates a tiered residential scaled environment very similar to the original tenemental scaled streets of Garscube Road to which it sits parallel.
"The rectangular form and lineal nature of the space is given necessary relief at key points by the location of the arrival plaza at its southernmost point. The street visually leads the user along the length of the two opposing elevations and focuses them upon the intriguing arched brickwork and large-scale contemporary sculpture located close to the building's primary entrances."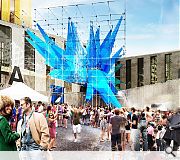 A combination of new build and retained elements will define the creative quarter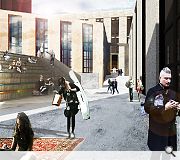 The architects aim to placed as much emphasis on the spaces between buildings as the buildings themselves
Back to October 2014