Network Rail tweak Queen Street Station plans
October 1 2014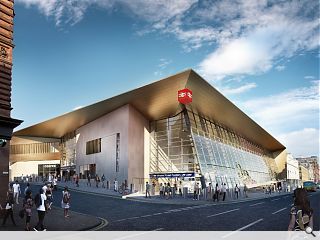 Network Rail have published fresh perspectives outlining their latest thinking on a
£104m upgrade of Glasgow's Queen Street Station
.
The simplified design introduces £16m of cost savings with smaller glazing panels on a 500sq/m primary façade, designed to stamp a civic presence on George Square.
Drawn up by BDP the plans have been necessitated by the introduction of longer trains on the flagship Glasgow-Edinburgh shuttle, which will see the existing concourse double in size.
David Dickson, Network Rail route managing director for Scotland, added: "The proposals unveiled for the second phase of consultation demonstrate that we have listened to, and acted on, what people are telling us they want to see at the station.
"Listening to what passengers, and those who live near the station, think of this exciting new vision for the future Queen Street, and enabling them to contribute to creating that vision, has enriched the proposals."
Members of the public have until 22 December to comment on the latest proposals.with work on the new station expected to get underway in 2015.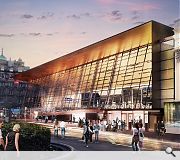 An entrance ramp has been moved inside and access stairs widened following a public consultation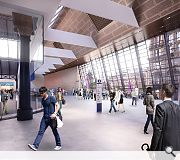 passengers won't benefit from the new facilities until 2019
Back to October 2014