Architects clash over independence as referendum looms
September 5 2014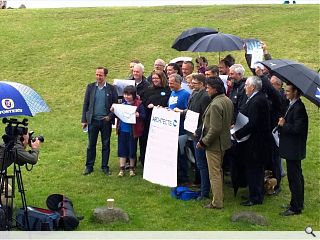 A battle for the future of the architectural profession is heating up as figureheads from Architects for Yes lock horns with colleagues opposed to independence ahead of the crunch vote on 18 September.
Within this febrile atmosphere Yes campaigners are mounting a last ditch push to convince architects whose loyalties may be wobbling to join their cause by hosting a public meeting in which they will expound their cause
This will provide an opportunity for audience of the converted and those who are not so sure to pop questions directly to vocal Yes campaigners Fiona Hyslop, Malcolm Fraser, Peter Wilson and Jonathan Charley.
Speaking in advance of the meet-up Architects for Yes organiser and Dualchas director Alasdair Stephen gave the gist of his thinking to Urban Realm, saying: "When you've got policies like the bedroom tax [spare room subsidy] which is affecting the end users of our buildings then that is something we should be engaged in, we shouldn't just leave it to the politicians, we should actually get more involved ourselves like we used to do back in the 50s/60s and 70s."
Stephen added: "Scotland is a small country, so we can speak to and influence these politicians,
an example of that is the Scenic Routes project
. That is something architects pushed for and got delivery on and that is now an exciting opportunity for young architects across Scotland."
Quizzed over the potential uncertainties fellow Yes proponent Fraser told Urban Realm: "In the built environment we should be used to thinking about the long game, the medium term might indeed be difficult after the vote. My daughter is a third year architecture student so I need to think about her future and the future of the built environment in Scotland and I believe in the benefits of government being close to us, where we are listened to."
The intervention has stirred passions amongst those on the opposite side of the debate however, notably Richard Murphy who has been apoplectic at the
Scottish government's regressive procurement policies
.
Others such as Alan Dickson of Rural Design, are also critical of the Architects for Yes movement, telling Urban Realm: "I am a bit annoyed about that, it does come across as architects in general are yes supporters which is far from the truth."
Dickson believes that local government has been 'completely destroyed' as the Scottish government has hoovered up powers and is sceptical of claims of a creative explosion in the wake of independence. He said: "Okay things happened in Barcelona when General Franco died but it's not like we have a General Franco here, keeping his thumb on top of the creative professions. If anything, in the context of the work we've been doing over the past 10 years, not just ourselves but with Alasdair Stephen, it's been its own enlightenment in terms of design in the landscape."
Anyone interested in attending the Yes meeting is invited to
RIAS headquarters on Monday 8 September at 18:00
.
Back to September 2014