Potterrow student housing and rehearsal space nears completion
August 22 2014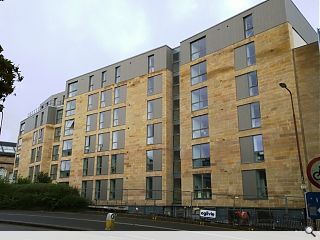 Ogilvie are completing work on a £6m student housing development at Potterrow, Edinburgh, built on behalf of the University of Edinburgh.
Designed by LDN Architects the scheme consists of a range of 40 predominantly three and four bedroom flats together with a rehearsal space on land to the rear for the nearby Festival Theatre and in response to a planned road realignment to create a new public square by 2020.
In their design statement LDN said: "The mass of the student housing is broken down by dividing it into two blocks so it better reflects the tenemental scale of the traditionally built flats in Edinburgh. The rehearsal space within the Festival Theatre Extension is punctuated by a large glass wall that projects forward of the building line.
"This interstitial space allows for attenuation of fresh air to naturally ventilate the rehearsal space and office below while screening traffic noise. It also allows provides the theatre with a presence to Potterrow and distinguishes it as a building of Public importance with in the surrounding residential blocks. Although the forms of the two buildings differ the use of a restricted palette of materials allow them to read as a holistic city block."
The scheme is scheduled for occupation in September.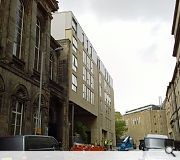 Depth has been introduced to the facades to reduce apparent mass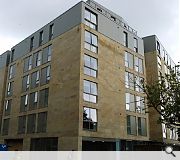 Ground floor spaces have been given over to retail and common areas
Back to August 2014