Dollar Academy teaching wing moves on site
August 11 2014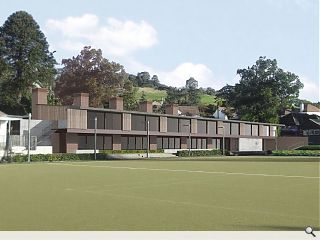 Page\park architects have moved on site with a new teaching block at Dollar Academy, delivering ten additional classrooms in a two storey extension intended to enhance the setting of main William Playfair building.
Defined by a series of chimneys providing natural 'stack' ventilation, the upper level of this pavilion is conceived as a 'glass balcony' sporting views across playing fields.
In their design statement Page\park say: "Compositionally the approach has been to develop a simple, elegant, glass and timber clad extruded volume at the upper level, sitting on a brick 'plinth' – the latter forming a solid base for the 'lighter weight' upper structure.
"Facing the pitch, the upper floor is cantilevered out along its length to form a distinct overhang, allowing viewing of the sports pitch from the upper level, and providing opportunity for protected seating along the path edge to the lower level under the overhang."
Completion is expected by summer 2015.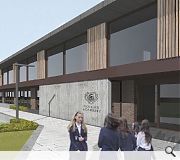 Softwood cladding boards on the upper level will be pre-treated to avoid uneven blackening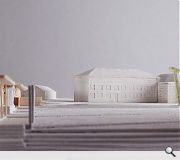 The extension fills a missing link in an 'L' shaped plan of recent campus additions
Back to August 2014