Paul Stallan delivers Commonwealth Games Village TED talk
August 8 2014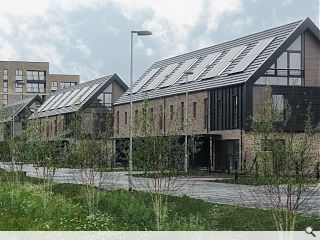 Glaswegian architect Paul Stallan of Stallan-Brand has delivered an impassioned TED talk exploring recent urban regeneration in his home city spurred by the 2014 Commonwealth Games.
Focussing on the
athletes' village
, which Stallan led alongside Alistair Brand whilst with their former practice, Paul Stallan Studio @ RMJM, the architect discusses 'living together, 'appreciating beauty' and 'dreaming' by pulling together key projects such as the
African University of the Creative Arts
.
Born in a traditional tenement in the Sighthill district of north Glasgow in 1967, Stallan cites its short-sighted demolition, along with the subsequent demolition of the tower blocks which replaced them, as key drivers in his own approach to regeneration.
Commenting on the village Stallan said: "On the site of the Commonwealth Games Village was a series of tower blocks. If you think about it spacially, if you came out of one of those flats you're immediately into the city.
"What we were trying to achieve spatially with the Games village was to come out of your house into your porch, from your porch to the garden, the garden to the home zone, home zone to the street and street into the wider city. We were decompressing if you like and creating defensible space but you're also creating layers of space where people can interact in different ways, they can choose to alter behaviours relative to what part of the village they're in."
Back to August 2014