Southern General Hospital teaching and learning facility tops out
July 30 2014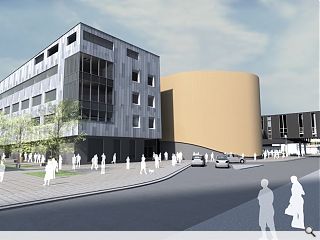 Work to deliver a teaching and learning facility at the new Southern General Hospital campus has reached a key milestone with a topping out ceremony held at the site.
Designed by BMJ Architects the £27m scheme is being delivered jointly by NHS Greater Glasgow and Clyde & The University of Glasgow to provide a training facility for undergraduate doctors and postgraduate medical staff.
The centre will also house a stratified medicine facility capable of undertaking whole genome DNA sequencing to identify optimal treatments for patients with chronic diseases.
On their design statement BMJ wrote: "As the name of the proposed development suggests, the building will principally be made up of two primary functions, Teaching and Learning. As such, the layout of the building was formed around an initial idea itself of splitting the building into two spaces. One for teaching and one for learning.
"This is then split in half with a central spine 'collaboration' space incorporated that acts as an internal street linking both teaching and learning spaces on the upper floors and creates a social hub at ground floor level."
Clad in a mixture of zinc shingles, glazing and base course blockwork the project is defined by a sculptural gold anodised aluminium auditorium space, designed to act as a landmark within the wider campus master plan.
The centre is one of a number of campus buildings to be drawn up by BMJ; including an
office building
and a
laboratory medicine building
.
Contractors BAM Construction will hand the scheme over in summer 2015.
Back to July 2014