Dandara resuscitate stalled Glasgow builds
July 23 2014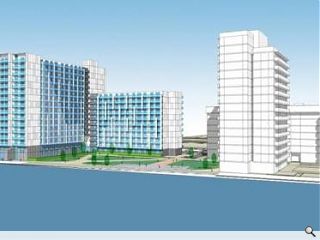 Dandara have dusted off two stalled schemes in Glasgow with the submission of proposal of application notices for a residential led build at Glasgow Harbour and a mixed us scheme at Cheapside Street.
Both schemes are now in the hands of Axis Mason with the gh2o branded Harbour scheme, third and final phase of the existing complex, comprising a 16 storey L-shaped block of 339 new homes.
Dandara's Rachel Allwood told the Evening Times: "… because of the strength of the city economy, we have the confidence to bring forward these major new investment plans."
A public exhibition detailing the plans will be held at the Riverside Museum 0n 6 August between 15:00 and 20:00 ahead of submission of formal planning applications.
Back to July 2014