A+DS and RIAS name student architecture award winners
July 18 2014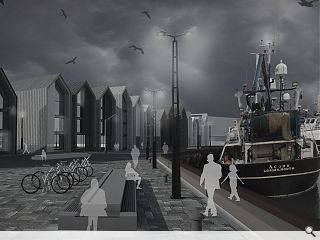 An exploration of inner town living in Peterhead and a civic theatre in Dalmarnock are amongst a raft of winners in a student architecture awards scheme, organised jointly by Architecture + Design Scotland and the RIAS.
5th year student Andy Stewart of the Scott Sutherland School of Architecture, was praised for 'powerful' work examining the regeneration of Peterhead through the introduction of new harbour housing.
Other winners on the night included 3rd year student Rebecca Goodson of Edinburgh School of Architecture and Landscape Architecture whose, 'outstanding' concept for a civic theatre in Dalmarnock won praise.
An urban design award meanwhile went to Stanislava Delieva of Strathclyde University for an 'uplifting and visionary' take on the derelict Govan Graving Docks,
Commenting on the awards A+DS chair, Karen Anderson, said: "… these awards and the supporting exhibition, allow visitors to see the high standard of architecture emerging from our schools of architecture."
All winning work is now on public display at The Lighthouse, Glasgow, until 28 September.
2014 Student Architecture Award winners in full:
Best 5th year student
Winner
: Andy Stewart – Scott Sutherland School (Resilient Towns (Re)Inhabiting Town Centres, Peterhead)
Commended
: Douglas Walker – ESALA
Best 3rd Year Student
Winner
: Rebecca Goodson – ESALA (Capturing Ephemeral Phenomena – Dalmarnock Civic Theatre)
Commended
: Marta Ascenso – Mackintosh School of Architecture
Jack Baker – Mackintosh School of Architecture
Megan Grierson – Strathclyde University

Urban Design Award
Winner
: Stanislava Delieva – Strathclyde University (Setting the Scene - Govan Graving Docks)
Highly Commended
: Jonathan Phillips, Roseanne Knight & Stephanie Sharpe – ESALA
Commended
: Artom Tsapkov, Louise Patterson & Hannah Beatty – University of Dundee

Sustainable Design
Winner
: Jonathan Phillips, Roseanne Knight & Stephanie Sharpe – ESALA (Towards an Integrated Garden City: A proposal to re-frame the post-industrial infrastructure, Manchester)
Highly Commended
: Andy Stewart – Scott Sutherland School
Commendation
: Rebecca Goodson – ESALA

Drawing Award
Winner
: Rebecca Goodson – ESALA
Commended
: Marta Ascenso – Mackintosh School of Architecture
Stanislava Delieva – Strathclyde University
Douglas Walker – ESALA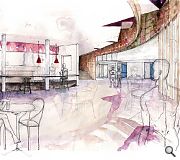 Judges citation for Rebecca Goodson: "This superb suite of drawings uses a number of different techniques, traditional and contemporary, to communicate a complex set of proposals, elegantly and attractively. The use of colour is particularly powerful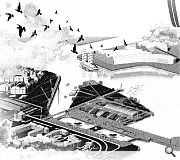 Judges Citation for Stanislava Delieva: "This is an uplifting and visionary approach with consistently strong ideas. Vigour, lack of restraint and unfettered ambition, some aspects of which are wholly untempered by practicality
Back to July 2014