Fountainbridge master plan submitted for planning approval
July 15 2014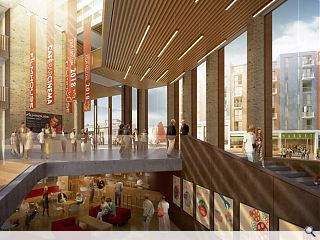 A master plan envisaging a bright new future for
Edinburgh's Fountainbridge district
has been submitted for planning approval by the EDI Group, the City of Edinburgh's arms-length development body.
Prepared by 7N Architects it is the latest in a series of master plans for an 8.2 acre brownfield city centre site adjacent to the Union Canal.
The new neighbourhood has been designed based on the civic investment model espoused by northern European cities such as Amsterdam and Copenhagen - a conscious effort to move away from short term development return to long-term placemaking.
In practice this will see temporary uses and activities, such as gardens and events, take place ahead of delivery of 63,800sq/m of mixed use development, comprising 350 mixed tenure family homes, workspaces, a 130 room hotel, retail, café and art spaces.
Improvements will also be made to the canal network, providing new open spaces and routes for both pedestrian and cycle use.
Ewan Anderson, partner at 7N Architects, said: "This project can prove the case for a new way of city making in Scotland. One that moves away from short termism to long term civic investment in making quality places that can benefit the city for years to come. The EDI Group and the City of Edinburgh Council should be applauded for taking this bold step on this key site and for giving the local community such a central role in the design process."
The plans have been developed consultation with the public
Back to July 2014