Dundee jute museum expansion gets underway
July 10 2014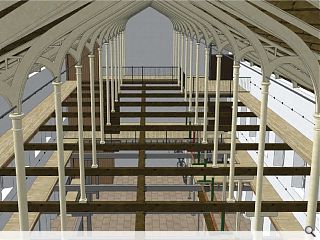 A £2.9m project to
extend a Dundee jute museum
, housed within the former Verdant Works, is underway with contractors stripping wooden flooring from the A-listed High Mill to open up a new exhibition and event space.
The year-long conversion is being overseen by James F. Stephen Architects of Dundee Heritage Trust and will double the size of the existing attraction.
Once complete the space will house a number of new exhibits, including 1801 Boulton & Watt steam engine and displays covering themes such as engineering, power and mill architecture.
Period features including light switches and doors will all be retained and restored as part of this process.
A spokesperson for the Heritage Lottery Fund, which stumped up a £1.9m grant for the works, said: "Today marks a turning point for Verdant Works. Incorporating these last two buildings into the existing five-star visitor attraction will complete its transformation with a stunning new space for exhibits and museum events."
Back to July 2014