Speirs + Major light the way ahead for former London factory
July 9 2014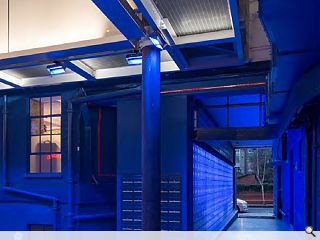 Speirs + Major has completed work on a custom lighting scheme for Exmouth House, Clerkenwell, a former factory which has been transformed into studio and office space.
Designed in partnership with ORMS Architects, on behalf of The Workspace Group, the scheme called for a high impact/low cost intervention which focussed on both signposting the main entrance and dramatising a central atrium.
This sees a highly saturated blue light diffuse around the entrance hall in contrast to external sodium lighting and the warm brickwork whilst providing a stark background for red neon signage.
Light sources are concealed behind a glass block wall with red neon way-finding graphics used to delineate the route to reception, whose bright yellow finish serves as focal point. A dramatic atrium sits at the heart of the design, lined by cool white permeable fabric panels across its full height to an EFTE roof canopy.
Speirs + Major senior designer Hiroto Toyoda said: "We developed a strong narrative based on coloured surfaces and coloured light not only for aesthetic reasons but also to assist with way finding. We also discussed a number of options with ORMS to create a focal point inside the central atrium, something that would work both by day and during after dark hours.
"We were engaged from relatively early stage of the design process, which meant that we were able to help the client with the development of the design brief rather than just offering last minute technical advice. We demonstrated to the client how lighting could be integrated into the architecture regardless of existing site constraints through diagrams, sketches and mock-ups."
Photography by Morley von Stemberg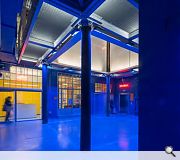 A central reception space sits at the heart of the scheme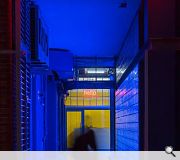 Light has been co-opted as a wayfinding tool for the refurbished block
Back to July 2014