Scottish Provident demolition labelled a 'tragedy'
July 4 2014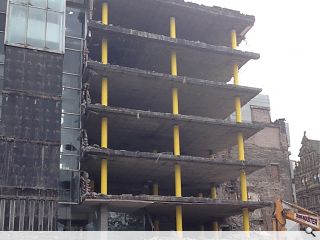 The Scottish Provident building, a B-listed modernist landmark in Edinburgh, has been flattened to make way for a speculative £75m office, retail and residential development.
Malcolm Fraser, who took this picture, described the demolition as a 'tragedy' for the city, addong: "One of Edinburgh's finest modern buildings destroyed – though the Gareth Hoskins/CDA proposals will glue a bit of the façade back on."
Edinburgh councilors gave the nod to the demolition following assurances that elements of the
dismantled façade would be re-used in the new scheme
, after ruling that dismantling and reconstructing the façade did not constitute demolition.
Designed by Rowand Anderson Kinimouth & Paul the New Town landmark is being redeveloped by Standard Life and is expected to be complete by the end of 2016.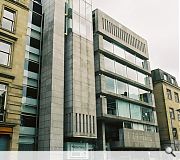 The Scottish Provident building in happier times
Back to July 2014