Three new viewpoints unveiled around Loch Lomond & The Trossachs
June 30 2014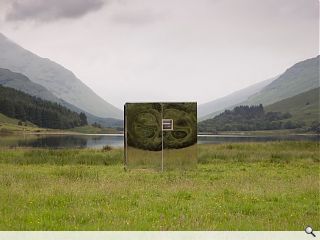 Three new vantage points have been unveiled by Loch Lomond & The Trossachs National Park as part of the ongoing Scenic Routes initiative.
Designed to enhance local beauty spots through specially commissioned artistic and architectural interventions the work is intended to enhance visitor's appreciation of the natural landscape.
These take the form of a woven tunnel of steel rods at the Falls of Falloch, designed by John Kennedy to focus the roar of gushing water and a mirrored cabin in Balquhidder Glen designed by Daniel Tyler and Angus Ritchie.
The reflective lookout reflects the surrounding loch and mountains and comes equipped with two benches for walkers to appreciate the space. The trio is rounded out by a 'Fairie Hollow' designed by Ruairidh Moir consisting of a wood and turf hideaway nestled at the foot of Ben Ledi.
Scottish Environment Secretary Richard Lochhead said: "Innovative viewpoints in areas of outstanding scenery will enhance the appreciation of Scotland's landscapes and enrich journeys for both residents and visitors. It will also support rural economy and employment by creating additional interest and driving more people to the areas.
"We have some top architectural talent in Scotland and these new sites have provided a great opportunity for young architects to showcase their talents."
A fourth viewpoint will be unveiled later in the year with further schemes waiting in the wings for the
Cairngorms and a stretch of canal bank by the A82
.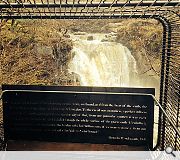 A poem penned by Dorothy Wordsworth, sister of William Wordsworth, is etched onto the Falls of Falloch viewing platform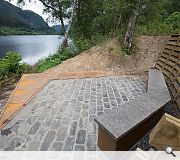 Ruairidh Moir's Faerie Hollow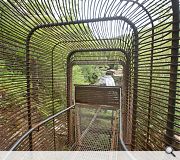 The Falls of Falloch viewpoint has been named 'Woven Sound'
Back to June 2014