ONS stats confirm third consecutive quarter of construction growth
June 13 2014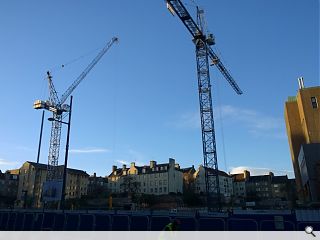 The latest batch of economic stats and figures to be
published by the Office for National Statistics
have confirmed that construction has now grown for three consecutive quarters, after posting a month-on-month rise of 1.2 per cent in April.
Year-on-year the sector is now growing at a healthy clip of 4.6 per cent compared to April 2013, after construction growth in the first quarter was revised upwards from 0.6 per cent to 1.5 per cent.
Construction new orders in the first quarter did fall 6.3 per cent on the previous quarter however, driven lower by a 45.7 per cent collapse in new public housing orders - the largest fall since 1964 – although this may be due to housing associations securing more investment from private sources.
Managing director of Kier Construction's Scotland & north-east England business, Brian McQuade, commented: "The Scottish construction industry has witnessed a step change in activity levels across both the public and private sector in recent months. A number of new opportunities and spend is reflective of the national statistics."
Back to June 2014