Fielden Clegg Bradley win University of Edinburgh campus comp
May 19 2014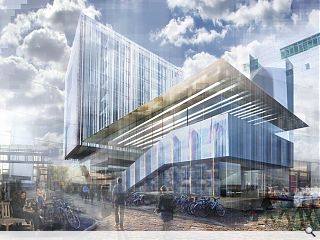 The University of Edinburgh has appointed Feilden Clegg Bradley Studios, working in conjunction with Ostick and Williams and WYG, to overhaul its School of Biological Sciences campus as part of a estates consolidation drive.
This will see an existing 1960s laboratory tower overhauled and re-clad together with the formation of two adjacent laboratory buildings arranged around a central hub building offering meeting rooms, offices and a canteen alongside connecting atria to the Kings Building.
FCBS's project partner Sam Tyler commented: "The project presents a number of exciting design and logistical challenges which will need to be resolved in the delivery of an exemplary facility. Head of School David Gray and his team have articulated a clear vision and ambition which has fired up the team in the early stages of this project. The project allows us to continue our exploration of issues around collaborative and flexible working and social environments and to deliver a transformative piece of architecture in the City of Edinburgh."
The revamped school is scheduled for completion by 2019.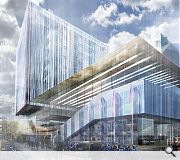 The re-clad tower, hub and atria building will knit the estate together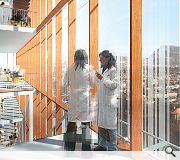 Write-up space in the renovated Darwin tower provides flexible research neighbourhoods to encourage collaboration
Back to May 2014