Trump pledges to turn Turnberry into Europe's 'finest' hotel
May 1 2014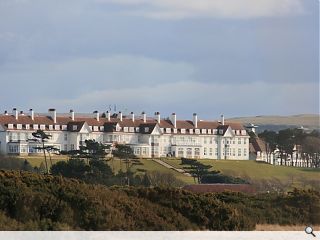 Billionaire American property developer Donald Trump has pledged to transform the Turnberry golf resort into Europe's 'finest' hotel after snapping up the resort from Dubai based Leisurecorp for an undisclosed sum.
The move is expected to foreshadow a refurbishment programme as Trump seeks to upgrade facilities at the complex; which currently include a hotel, three golf courses, a spa and self-catering accommodation.
In a statement Trump said: "I intend to invest many millions of dollars (pounds) in order to bring the hotel to the highest levels of luxury.
"When completed, I believe that the Turnberry Hotel will be the finest and most luxurious hotel in all of Europe."
The move follows the stalled development of a club house and wider master plan for Trump's Menie Estate which has been put on the back burner owing to a dispute over an offshore windfarm.
Turnberry was
last revamped at the hands of 3DReid Architects in 2009
.
Back to May 2014