Off the wall murals spring up amidst countryside art push
April 22 2014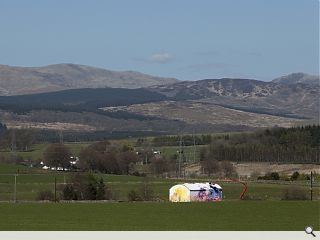 A rural mural project has been launched in Dumfries & Galloway to tart up unprepossessing barns, houses and electricity substations with colourful displays of art.
The project has encouraged street artists from around the UK and Europe to swap city streets for rural lanes in a series of 'big, colourful and fun' artistic interventions using some unlikely canvasses.
Amongst the first of these projects is the transformation of a corrugated iron hay shed at East Knockbrex Farm, Newton Stewart, that is scheduled for demolition, the gable end of the Dalton Pottery Art Café and a former electricity sub-station in Stranraer.
Measuring up to 40m in length the giant pieces form part of the Spring Fling Rural Mural initiative led by Amy Whiten and Ali Wyllie of arts organisation Recoat.
In a statement Whiten said: "The murals are big, colourful and fun – they really stand out in the landscape and we hope that people will enjoy seeing them.
"We've got an amazing combination of nationally and internationally-known street artists working with some incredibly talented people from the region to create the murals – and the results are fantastic."
Photography by Colin Tennant.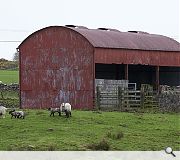 This dilapidated hay shed has become an unlikely attraction
Back to April 2014