Preferred bidder named for Irvine mental health facility
April 11 2014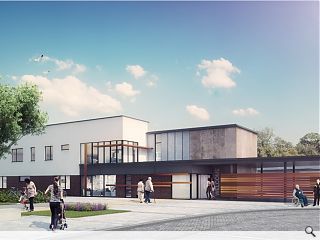 A consortium comprising IBI Group and Balfour Beatty has been named as preferred bidder to design a £47m acute mental health unit in Irvine, North Ayrshire following a nine month competitive dialogue alongside two other bidders.
Prepared by IBI's healthcare design team and landscape specialists on behalf of NHS Ayrshire & Arran the scheme adopts a holistic approach with inpatient areas situated on the ground floor, offering easy access to private gardens, social spaces and a café terrace.
A woodland walk will also be created through the surrounding nature to help cater for the psychological, emotional, physical and physiological needs of patients.
Lead architect Martha McSweeney, commented: "The building layout creates a series of spaces; from the more private areas of the wards, through to sociable shared therapy clusters and onto the more public area within the entrance that faces the wider site and community. This supports the patient recovery journey, building confidence, offering choice and enabling progression leading up to the transition home."
The new facility will combine both inpatient and outpatient services offering a total of 206 single en-suite beds on a 6.5ha site.
Back to April 2014