McAslan + Partners complete Rwandan genocide memorial
April 7 2014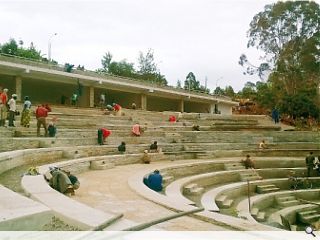 John McAslan + Partners have unveiled a new amphitheatre, classrooms and exhibition area in Kigali, Rwanda, as the first phase of a wider master plan for the Kigali Genocide Memorial.
Commissioned by the Aegis Trust the monument stands on the site of a mass grave and is expected to draw tens of thousands of home and international visitors annually to reflect upon the slaughter which took place there.
Hannah Lawson, project director at John McAslan + Partners, said: "The strategic importance of this project cannot be overstated. Its success will have cultural, political and educational ramifications within Rwanda and Africa. Acknowledging the genocide in this public space is part of reparation – repairing and healing – in its broadest sense. The Memorial is about fostering a new climate of trust that must be built on, and sustained. The completion of this first phase of our master plan is the culmination of ten years of commitment to this highly significant project"
The memorial will be formally inaugurated tomorrow to mark the 20th anniversary of the 1994 genocide with later phases planned to include a genocide documentation area and an International School of Genocide Studies.
Back to April 2014