Page\Park showcase Martyrs Kirk research library
April 1 2014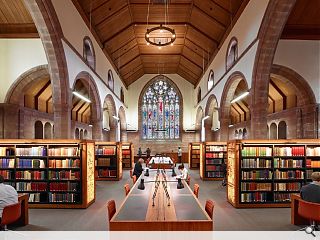 Page\Park have showcased their
renovation of the B-listed Martyrs Kirk at St Andrews University
, which has seen the historic church transformed into a postgraduate reading room for the Faculty of Arts.
This process saw removal of the pews to form a new volume housing its own book cases and writing tables which lend a more intimate feel to the space.
Describing this work Page\Park said: "…by locating the bookcases in-between the arches a new echoing 'colonnade' is created framing reading alcoves, central reading spine, raised reading area in the old sanctuary and study area in the side wing.
"This idea of echo is continued in the illuminated bookcase end panels by Bespoke Atelier, a reference to the original stained glass of the church. Supporting accommodation has been provided in the side halls adopting similar principles."
The original church was designed by Gillespie and Scott in 1928.
Photography by Andrew Lee.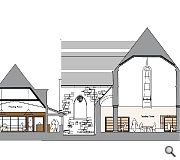 A collection of rare and early printed books, manuscripts and photographs are contained in the collection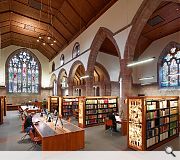 The new space has had to manage the transition from prayer to study
Back to April 2014