Survey finds construction confidence is building
March 31 2014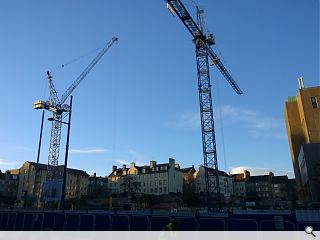 A survey of construction firms has found the sector to be at its most confident since the onset of recession in 2008, according to the Scottish Building Federation.
The umbrella group's latest Construction Monitor registered positive sentiment for the third quarter on the trot, although this masked a mixed performance amongst some sectors.
Leading the way with strong growth were infrastructure and private commercial activity whilst the house building market remains listless
Scottish Building Federation managing director Vaughan Hart said: "This is the first time that the percentage of companies more confident about the future outlook for their business compared to the last year has risen above the 50 per cent mark.
"At the same time, it is important to keep these results in perspective. Recovery across the different sectors of the industry remains mixed. While there has been strong growth in infrastructure and private commercial activity, house building remains flat.
"The challenge now must be to ensure the recovery is sustainable in the longer term. Industry confidence needs to reach a point where companies have the confidence to invest long-term in rebuilding skills and capacity."
Back to March 2014