Lower Dens Works hotel plan approved
March 7 2014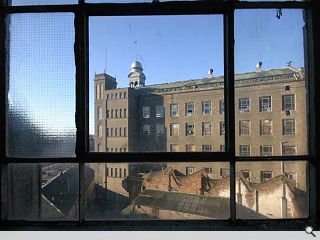 Dundee City Council has
approved plans by Unicorn Property Group
to convert a portion of the A-listed Lower Dens Works into a 133 bedroom hotel in a bid to arrest the continued decline of the at risk buildings.
The planned renovation and conversion would affect the Bell Mill and North Mill, built in 1866 and 1935 respectively, with an entrance foyer, restaurant and conference facilities incorporated in the ground floor and bedrooms above.
Operating under the 3-star Ibis Styles brand the JM Architects designed venture will retain valuable features such as the cast iron structure and doors of what was once the largest linen factory in the world.
In their design statement JM Architects noted that the one external addition to the property would be a new lift core and lobby, replacing an existing corrugated metal clad goods lift access walkway: "This structure will be an external continuation of the new internal lift core and lobby at the junction between the Bell Mill and North Mill and will form the main circulation core up through the proposed hotel.
"It is our proposal to form the external skin of the new lobby in facing brick to match the existing brick lift shaft allowing the new construction to read as a distinct separate element which as a simple form aims not have a negative effect on the Bell Mill proper."
The Dens Street Mill, St Roques Mill, gatehouse and Marquee building are all excluded from the current application.
Back to March 2014