Design team appointed for new national blood centre
March 5 2014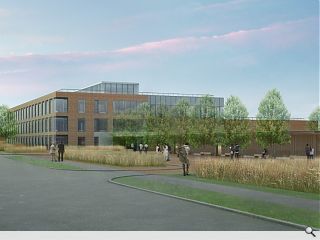 A design team comprising Reiach & Hall architects, Interserve and Kajima Partnerships have been awarded the contract to build a new laboratory at Heriot-Watt Research Park, Edinburgh, by the Scottish National Blood Transfusion Service (SNBTS).
The £50m
research and development centre
will consolidate existing facilities and incorporates administrative areas to safeguard the future supply of blood, tissue and cells to hospitals.
Mary Morgan, Director of SNBTS, commented: "The National Centre will facilitate the effective introduction of new developments, products and safety measures in a flexible, state-of-the-art building. It is very exciting to have reached this stage of the project and we are looking forward to working with Interserve Kajima to turn their winning design into reality."
Health secretary Alex Neil added: "This new purpose-built facility will help to modernise the processing and testing of the blood which people across Scotland are donating to help others, and will help to ensure the future supply of blood, tissues and cells for all patients."
Detailed contractual arrangements will now be put in place to allow delivery through the Scottish Government's Non-Profit Distributing model, with the project expected to move on site this autumn for completion by spring 2017.
Back to March 2014