GSA's £50m Reid Building officially unveiled
March 2 2014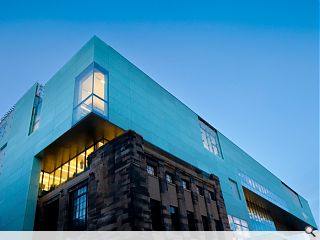 Glasgow School of Art has officially unveiled the first phase of its campus master plan, the £50m Reid Building opposite the Mackintosh building.
Commissioned to provide a more focussed campus environment the building was commissioned to provide a broad range of studios and teaching facilities for the School of Design, as well as workshops, lecture facilities, communal spaces and a visitor centre.
Delivered by Steven Holl Architects in association with JM Architects and Arup Engineering The Reid Building is finished in translucent glass – a contrast with the masonry opposite.
Studios are positioned on the north façade with large inclined north facing glazing to maximize access to the desirable high quality diffuse north light.
Refectory and office spaces meanwhile are located on the south façade where access to sunlight can be balanced with the occupants needs and the thermal performance of the space through application of shading.
"Driven Voids of light" deliver natural light throughout the building providing direct connectivity with the outside world as well as providing vertical circulation and eliminating the need for air conditioning.
A landscape loggia in the form of a Machair provides an exterior social space overlooking the Mackintosh and a "Circuit of Connection" of ramps and lobbies provides vertical connection.
The Reid Building will be reviewed fully in the March edition of Urban Realm, photography by McAteer.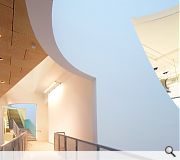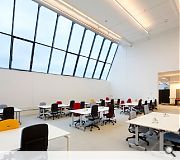 Back to March 2014