Stallan-Brand publish new 'fringe' website of discarded designs
February 28 2014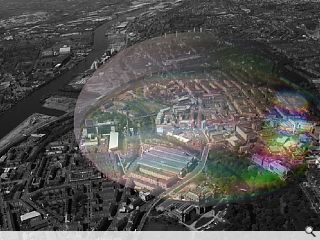 Upstart architecture studio Stallan-Brand have augmented their web offer with a new
'fringe' website
intended to act as a repository for 'discarded' ideas which failed to make it off the drawing board.
Encompassing a diverse array of models, sketches, collages, paintings and installation works; the site draws together an array of projects some made as a result of collaborative working and others more personal to design director Paul Stallan.
Some of the flights of fantasy contained therein include a transposition of Glasgow's South Side with New York's Central Park and a view of Edinburgh Castle as it might have been built by the Aztec's.
In a statement Stallan said: "The selection of work is playful with projects ranging from junk assemblages, machetes of imaginary structures, illustrations of digital dens, broken models, photographs of sky and favourite but unrealised designs."
Describing the web presence as offering a view into a 'visual and conceptual laboratory', Stallan adds: "nothing is precious or meant to be clever, rather the opposite, just ordinary stuff seen in a different light or unresolved ideas to be revisited ... something like that."
Back to February 2014